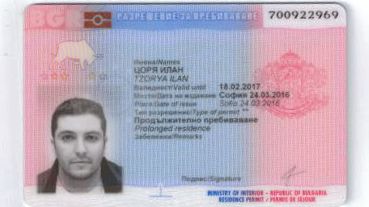 Special Report: Blue Bit of Mystery
The Blu Bit Banc (BBB) binary options' scam led to the indictment of its CEO Blake Kantor, but newly discovered documents suggest the masterminds behind the scam managed to mysteriously avoid prosecution.
The Blu Bit Banc scam, shocked the world of binary options' investments in 2018. In November 2018 Blake Kantor (aka Bill Gordon), head of Blu Bit Banc's parent company Blue Bit Analytics, pleaded guilty to conspiracy to commit wire fraud and obstructing the investigation into his fraudulent scheme. While Kantor currently awaits sentencing, and according to sources in the USA authorities is likely to be looking at an extended stretch in prison, it is very likely that the real masterminds behind his elaborate scam were not brought to trial.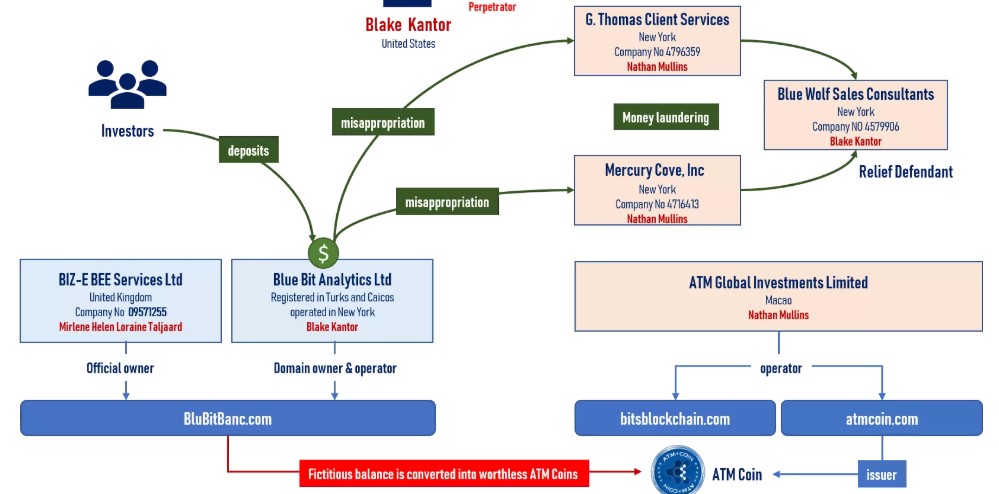 The Blu Bit Banc (BBB) Scheme
The Blu Bit Banc scam was an elaborate fraudulent scheme that defrauded as many as 700 American investors out of nearly $1.5 M. As detailed in an article about the scam published on June 1st, 2019 by FinTelegram, Blake Kantor (aka Bill Gordon) led a fraudulent corporation composed of various companies. The main company was Blue Bit Analytics, a company that operated a fraudulent binary options platform which lured the investors to invest their money in the hopes of making a profit. Once the money was invested in Blue Bit Analytics, it was first diverted, without the investors consent, to a string of companies – Blue Wolf Sales Consultants, Mercury Cove Inc., G. Thomas Clients Services – who passed it from one company to the other in order to launder it before finally returning it Blue Bit Analytics that transferred their money to the platform it operated which went by the name of Blu Bit Banc (BBB).
Once in the BBB, the money was transformed into ATM coin, a fraudulent coin that was worthless leading the investors to 'lose' all of their investments, while Kantor, who ran Blu Bit Analytics and BBB, took their money to his pocket. His guilty plea, and inevitable prison sentence, should have brought justice to his victims. Yet one question still haunted those following this scam closely – How did Kantor, a low ranking criminal, currently serving a 3 years prison sentence for his involvement in an unrelated drug trafficking case, manage to run such a complicated scheme in a field he knew very little about? Recently received documents may shed some light on this matter.
New Discoveries
Documents recently provided to the staff of FinLeaks by an anonymous source, tell a very different story to the one previously told in court – and by the FinTelegram's June 1st article. According to the documents received, Blue Bit Analytics, the parent's company of Blu Bit Banc, was nothing more than a licensor of Tradologic platform, which kept a large percentage of its profits and oversaw their actions.
According to papers, Blue Bit Analytics signed in 2014 a 5-year deal, which allowed them to license the platform created by Tradologic, which in return will receive a cut from its profits and will be privy to its businesses. The deal, as seen below, was signed by the company's heads, themselves notorious scammers – CEO Ilan Tzorya and top executives Michael Golod and Slavena Savcheva.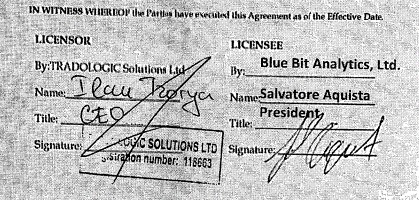 After structural changes were made to Tradologic, an annex was added to the original agreement in 2017, it was signed by Golod and Savcheva.
As these documents prove, the 3 notorious scammers, were heavily involved in the BBB scheme, as the providers of the technology used, overseeing the scheme and benefiting heftily from money stoken from the investors, however they were not arrested and none of them faced trial in regards to this scheme.
The Big Questions
The names revealed in these documents have long been linked with various scam scandals around the world. Many of the scandals they were allegedly involved with bear great similarities to the Bit Blu Banc fraudulent scheme. Now that it has been revealed that they have served as part owners of this operation, many questions need to be addressed.
We have shared this information with the relevant authorities, and hope some of these questions will be answered in due time. I will keep our readers informed in regard to any new developments that will surely arise in this case.