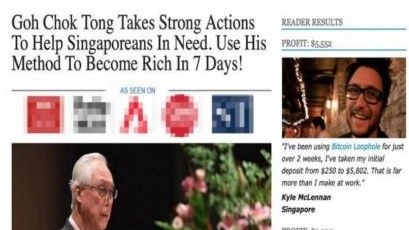 Singapore – Bitcoin Scammers Use Name of Goh Chok Tong
Bitcoin scammers used the name and imagery of legendary former Singaporean PM to lure victims.
Cryptocurrency scams have been plaguing internet users for years now. While it is an international phenomenon, in Singapore it seems to be occurring on a higher rate than most other developed countries.
On July 31, the Singaporean Monetary Authority (MAS) has issued a serious warning of a crypto scam lurking the Singaporean websites. This particular scam has shamelessly used false statements, supposedly made by Emeritus Senior Minister (former Prime Minister) Goh Chok Tong, who led the country from 1990 to 2004 and remains a beloved and trusted Singaporean icon.
The site has used the name and imagery of the prime minister, pertaining to be a trading platform that can automatically initiate trades on the users' behalf in order to maximize profits. Users were asked to make an initial deposit of $250 into Bitcoin Loophole and later were requested to provide their bank account and/or credit card details.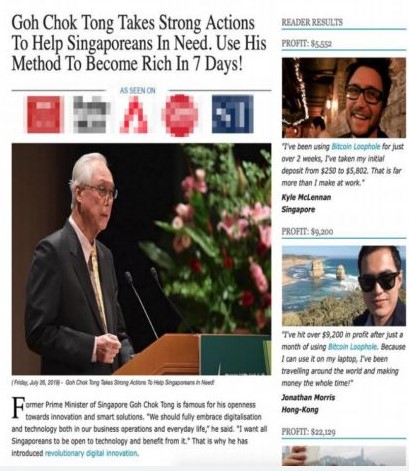 This scam is not the first time local scammers have used popular politicians' imagery in order to win over the hearts of their victims. In September 2018, a similar scam, using the name of popular then-Deputy Prime Minister Tharman Shanmugaratnam, in order to persuade victims to 'invest' in a cryptocurrency scam, was discovered by Singaporean authorities. Over the last year, other fraudulent websites have 'jumped on the bandwagon' and have used the names and imagery of multiple politicians and public figures in order to solicit bitcoin investments.
The bitcoin scams in Singapore were particularly effective as unfounded rumors have circulated online, suggesting Singapore will be the first country to officially adopt the bitcoin as its official coin has led to a surge in Singaporean investment in the popular cryptocurrency.
In its warning to the public MAS stressed that "members of the public are advised to exercise extreme caution and avoid providing any financial or personal information on the forms linked from the suspicious website".